Appointment Gaspar Rivera-Salgado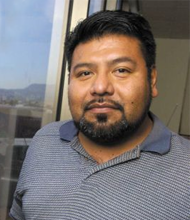 Appointment Prof. Rivera-Salgado
September 2004

Mexican Professor appointed to the Prince Claus Chair

The University Board of Utrecht University has appointed Professor Gaspar Rivera-Salgado as holder of the Prince Claus Chair in Development and Equity for 2004/2005, following his nomination by the Curatorium. The Prince Claus Chair is a rotating chair in the field of development and North-South relations and was established by Utrecht University and the Institute of Social Studies (ISS).

Professor Rivera-Salgado (born in 1965, in Tecomaxtlahuaca, Oaxaca, Mexico) was appointed on the basis of his academic work in the field of indigenous rights, particularly in Latin America and the United States. He holds a doctorate in Sociology and currently works as an independent consultant in the non-profit sector. He has previously held positions at several universities in the United States (including the University of California, at UC Santa Cruz and UC San Diego, and Columbia University). Coming from a Mixteco Native American background himself, he is the author of many publications about the rights of indigenous peoples. Professor Rivera-Salgado will be based at the Netherlands Institute of Human Rights, Utrecht.

The Curatorium of the Prince Claus Chair is chaired by Princess Máxima of the Netherlands. Young academics from Africa, Asia or Latin America are eligible for appointment to the Chair for one academic year, with the Chair alternating annually between Utrecht University and the ISS. In establishing the Prince Claus Chair, Utrecht University and the ISS aim to advance research and teaching in the field of development and equity, in line with Prince Claus's views and ideas in this regard. Previous holders of the Chair are Professor Mansoob Murshed (from Bangladesh) and Professor Amina Mama (from Nigeria/South Africa).

Professor Rivera-Salgado is the first Native American to be appointed Professor in the Netherlands. On April 12, 2005 Professor Rivera-Salgado will give an inaugural address at Utrecht University. 

For more information about the appointment of Professor Rivera-Salgado, please contact Joop Kessels at Utrecht University (tel.: +31 (0)30 253 4477 or +31 (0)6 5155 8107, e-mail: j.kessels@usp.uu.nl).