The Cheetah Challenge – winners of the thesis competition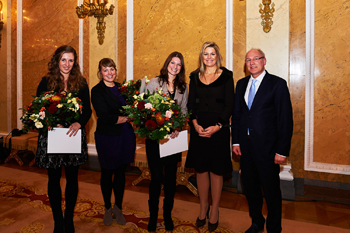 The PCC 10th anniversary celebrations on 28 November also hosted the Cheetah Challenge prize giving.
Organized by the NCDO in association with the PCC, the Cheetah Challenge was a thesis competition about international cooperation for masters students and young researchers.
The prize winners
First prize
Lisanne Heemskerk (Utrecht University, International development studies, 2012) with the thesis 'How responsible is responsible business?'.
Runner up prizes
Annemarie Groot Kormelinck (Radboud University Nijmegen, Development Studies, 2010) with the thesis: 'Back to the birthplace of the bean'.
Nienke van der Have (University of Amsterdam, International and European Law, 2011) with the thesis: 'The right to development and state responsibility'.
NCDO is a Dutch expertise and advisory centre for citizenship and international cooperation. NCDO carries out research, provides information and advice, stimulates public debate and is actively involved in the field of training and education.