Appointment Jumoke Oduwole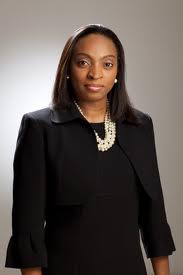 Dr Jumoke Oduwole has been appointed to the Prince Claus Chair. As of 1 September 2013, she will hold this position for a period of two years, working on research on The Right to Development. Oduwole aims to define this theme in the African context and in relation to trade and human rights.
Dr Jumoke Oduwole is a talented researcher and lecturer at the Department of Jurisprudence and International Law, Faculty of Law, University of Lagos in Nigeria. She is an elected member of the University's Senate and sits on the Committee heading the Centre for Human Rights, University of Lagos. Her current research interests include International Law, International Economic Law, Human Rights and Development, and she has published articles in these areas. Jumoke is Vice President (West Africa) of the African Association of International Law and serves on the executive committee of the African International Economic Law Network. She was a 2013 Archbishop Desmond Tutu Fellow of the African Institute of Leadership. She also assists the Nigeria Economic Summit Group (NESG) research department in an advisory capacity.
Dr. Oduwole has an LL.M. degree from Cambridge University, UK, where she was a DFID-Cambridge Commonwealth Trust Scholar, as well as a masters degree in International Legal Studies and a doctorate on International trade and development from Stanford Law School, USA. She and was a Graduate Fellow at the Stanford Center on International Conflict and Negotiation from 2007/2008 and a visiting scholar at the University of Houston Law Center, Houston, Texas from 2008/2010. An active member of the community, Jumoke volunteers her time for the advancement of a number of social causes and has mentored Nigerian youth in various capacities for over 15 years. She is passionate about development issues in Africa.