Chilean lawyer Javier Couso appointed to the Prince Claus Chair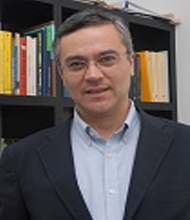 Professor Javier A. Couso, professor and director of the Constitutional Law programme at the Universidad Diego Portales in Santiago, Chile, has been appointed to the Prince Claus Chair of Development and Equity as from 1 September. During the next two years, he will be conducting comparative law research in collaboration with scholars at Utrecht University.
Couso is a specialist in the field of sociology of law and comparative law, with a focus on constitutional issues in Latin American countries including Chile, Mexico, Nicaragua and Peru. His areas of interest include judicial independence and human rights. Recently, Chilean President Michelle Bachelet appointed him a member of the advisory group set up to evaluate Chilean anti-terrorist legislation. Both in this role and more broadly, his research is providing significant insights into what are often difficult transition processes in Latin America.
Institutions
During his two-year appointment in Utrecht, Professor Couso will be contributing to the strategic research theme of 'Institutions'. He will be based at the Faculty of Law, Economics and Governance (REBO) at the Netherlands Institute of Human Rights (SIM).
'The possibility to work with jurists and sociologists of law from the Netherlands, a nation with one of the most solid traditions of respect for the rule of law and judicial independence, represents a truly unique opportunity', says Professor Couso. In spring 2015, he will give an inaugural address at the University Hall in Utrecht.
Influence
Couso's research shares common ground with the Latin American Studies programme at Leiden and the development issues currently being studied at Wageningen, so that the influence of his guest professorship will extend far beyond Utrecht. Last year, Couso also held a guest professorship at Leiden University.
Javier Couso's research spans various disciplines, including law, political science, sociology and history, making him excellently suited to the more multidimensional approach to major issues pursued at Utrecht University.
Prince Claus Chair
The Prince Claus Chair is a rotating chair established alternately at Utrecht University and the Institute of Social Studies in The Hague (part of Erasmus University Rotterdam). Both institutions use the chair to promote research and education in the field of development cooperation, in accordance with the views and ideas of Prince Claus. Outstanding, promising academics from Africa, Asia, Latin America, the Caribbean and the Pacific are eligible for appointment to this chair. The Board of Trustees of the Prince Claus Chair is led by Professor Louise Gunning; Queen Máxima is the patron of the Prince Claus Chair.