Appointment Dr. Fatima Suleman to do research on affordable (bio)therapeutics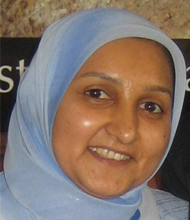 Dr. Fatima Suleman, associate professor of Pharmaceutical Sciences at the University of KwaZulu-Natal in South Africa, has been appointed to the Prince Claus Chair of Development and Equity as of 1 September 2016. During the next two years, she will be conducting research in affordable (bio)therapeutics in collaboration with scholars at Utrecht University.
"I am really looking forward to working with the pharmaceutical policy researchers at Utrecht University. Patients all over the world are in need of affordable medicine", says Suleman. In the spring of 2017, she will deliver her inaugural lecture in Utrecht University Hall (Academiegebouw).

Fatima Suleman
In addition to her appointment to the University of KwaZulu-Natal, Fatima Suleman also has ties to Drake University in the United States. One of her research projects is about the pricing of drugs for diseases which cause huge suffering, such as chronic conditions. Suleman has taken part in various international commissions on drug pricing. She currently has a seat on a panel at the World Health Organization (WHO) on pricing, health technology assessment and reimbursement.

Life Sciences
Fatima Suleman will spend her two-year appointment in Utrecht working within the strategic research theme of Life Sciences. Her chair will be within the Faculty of Science, in the Department of Pharmaceutical Sciences. The chair she will hold, Affordable (Bio)Therapeutics for Public Health, has strong links to the research conducted in that department, in particular in the Utrecht Centre of Excellence for Affordable Biotherapeutics and the WHO Collaborating Centre for Pharmaceutical Policy and Regulation.

Prince Claus Chair
The Prince Claus Chair is a rotating chair. Appointments are made alternately at Utrecht University and the Institute of Social Studies in The Hague (part of Erasmus University Rotterdam). Both institutions use the chair to promote research and education in the field of development cooperation, in accordance with the views and ideas of the late Prince Claus. The curatorium of the Prince Claus Chair is chaired by Professor Louise Gunning; Queen Máxima is the patron of the Prince Claus Chair.