Dr Seye Abimbola appointed to Prince Claus Chair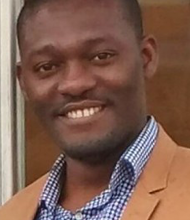 As of 1 September 2020, Dr. Seye Abimbola will hold the Prince Claus Chair at Utrecht University on Justice in Global Health Research
About Dr Abimbola's research
Attention to fairness in Global Health is increasing, motivated by the fact that there are situations of injustice in relation to Global Health research and practice that we ought to respond to. These situations are grounded in existing and historical wrongs due to colonization, discrimination, structural inequalities, and power imbalances.
As holder of the Prince Claus Chair, the goal of dr. Seye Abimbola's work will be to take lessons from his ongoing research on health system governance and apply them to improve global health practice – i.e. the activities that are involved in delivering on the mission to achieve equity in health outcomes within and between countries.
"Improving global health equity involves intervening in the lives of others, so our efforts must begin by trying to see through the eyes of those 'others'" says dr. Abimbola. "We have to understand how they govern themselves and their own health systems from the bottom up", he added. He wants to contribute to the "practical ethics" of global health research and practice, and feed into ongoing discussions on justice in global health.
Taking a governance perspective, dr. Abimbola will study the adoption, scale-up and performance of "district health systems" over time, and emerging "health systems innovations" to tackle the global epidemic of non-communicable diseases and the Covid-19 pandemic. He will work closely with global health and bioethics scholars at the Julius Center for Health Sciences and Primary Care, University Medical Center Utrecht as well as with scholars at the Ethics Institute, Interdisciplinary Sciences and the Center for Global Challenges at Utrecht University and the Royal Tropical Institute.
Life Sciences
With his research, Dr Abimbola will participate in three strategic themes:
Life Sciences,
Pathways to Sustainability,
Dynamics of Youth and Institutions.
Dr. Abimbola is hosted by the Department of the Julius Center for Health Sciences and Primary Care (Faculty of Medicine).
About Seye Abimbola
Seye Abimbola is a health systems researcher from Nigeria. He is currently a senior lecturer at the School of Public Health, University of Sydney in Australia. He had his initial training in medicine at the Obafemi Awolowo University, Ile-Ife in Nigeria. And he gained his PhD from Sydney University in 2016, on a wide-ranging institutional analysis of primary health care governance in Nigeria. From 2018-2019, he was a Sidney Sax Overseas Early Career Fellow at the University of Oxford.
Dr. Abimbola uses realist methods and theories from institutional economics to study community engagement in health governance, decentralised governance of health systems, and the role that governance plays in the adoption and scale-up of health system innovations. Abimbola is the editor in chief of BMJ Global Health. He is also a member of the World Health Organisation (WHO) Health System Governance Collaborative and serves on the advisory council of Global Health 50/50.
Prince Claus Chair
The Prince Claus Chair in Development and Equity is a chair that is held alternately by Utrecht University and the International Institute of Social Studies at Erasmus University Rotterdam. Exceptional young academics from developing countries are eligible for this position. Both institutions use the chair to advance research and education in the field of international development and equity, in line with the ideas and work of the late Prince Claus. Professor Louise Gunning is the chair of the board of governors of the Prince Claus Chair. Queen Máxima is the patron of the chair.
The equity and justice in global health research work of both Seye Abimbola and Judith van de Kamp is funded by NWO – Wotro Science for Global Development.