In hindsight: Former Chairholders on the impact of the tenure on their career and lives. #2: Dr Jumoke Oduwole
Dr Jumoke Oduwole was Chairholder from 2013 – 2015. Her research focus was on the right to development in the African context and in relations to trade and human rights. In 2022 she is, among other things, Special Advisor to the President of Nigeria on Ease of Doing Business.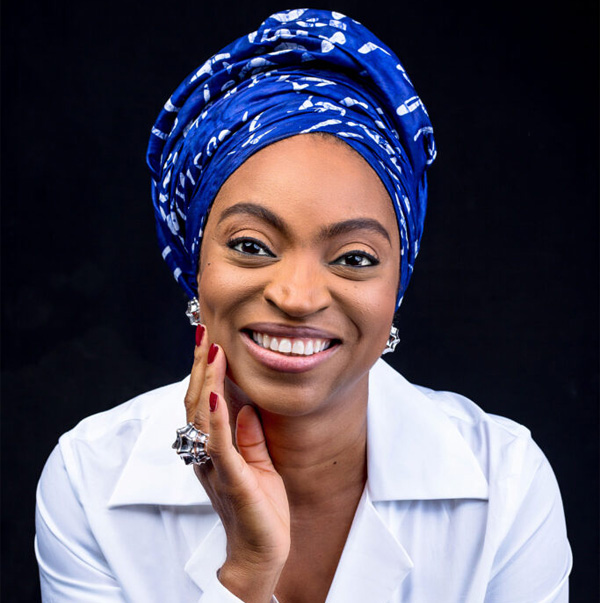 The best way to empower the people is to make sure that they have an enabled environment.

Dr Jumoke Oduwole
A special time in my life
"The Chairholder ship was a very special time in my life. I was turning 40 and I was up for the challenge of the academic opportunity to make a significant contribution to the discourse in this area. I have very fond memories of the selection process. Meeting (then Princess) Queen Máxima (former Chair of the Curatorium) was a very special moment". Coming to ISS in The Hague was life changing. The whole ISS community where very supportive.
Delivering the lecture in front of my parents, husband and other family members, colleagues and former students from Nigeria, the ambassador of Nigeria to the Netherlands, Queen Máxima and many more colleagues and partners was extremely fulfilling for me."
Focus on law and development
During her tenure Jumoke hosted two Roundtable's, in Nigeria and in The Hague, on the subject of law and development and she's researched into themes like international law, the meaning of obligations and what it means to have a right with a focus on African people.
"The content of the conversations was about development in Africa, which is a topic that has always been, and still is, very dear to me. Those were good memories, engaging with the community, learning and sharing my story, especially the students, finding out their journeys, and just encouraging them as a visiting professor."
"I have spent time in the US, in the UK and in Nigeria in academic communities as a colleague, but as a visiting professor it was different. I got to speak at many different universities and institutions, for example in Leiden and Groningen, and also at the ICC, the EU and the UN. It was a pleasure to have engaging conversations about development in Africa and hone my academic skills."
Tell your story with authenticity
On the greatest gift the tenure has given her, she says: "It's being yourself. It's very important to remember who you are and what you can bring to the table, especially when you're of a different culture and in a different environment. I also learned this lesson from the life of Prince Claus himself. He was known for equity, fairness and his passion for development. For you to be known for something, that means you've persisted and making it a thread throughout your life.
For me it means standing by your choices on research and the way you want to tell your story on development and equity. With all that I engaged with, it's imperative to tell my story with authenticity. If you stand with your story in authenticity, then that gets listened to with respect."
Shifting from academia to policy making
Jumoke recounts what happened after the tenure. "The story continued. Having that PCC-platform to spend quality time working on development helped me a lot. A lot of people in Nigeria knew about the Chair. People wanted to know: What I was writing on and how come I was chosen for this visiting professorship and in development and equity? It was an opportunity to focus on development issues in in the light of international trade and the need to look into trade asymmetries within Nigeria and between Nigeria and other countries."
And that is how she started crafting a role on contributing to business climate reforms and the trade agreements for equity and fairness. "It actually made me pivot internally. My role was an international economic lawyer looking at the rules of government but the work on development and being very people centred actually helped me to focus more on the need for domestic reforms which will trigger economic prosperity from within a nation."
Economic prosperity is essentially something that is to be developed from within, not given to you.
Giving a perspective of prosperity
"It was a logical next step, and it also felt like my duty to be able to implement all that I've done in academia. To give, especially the Nigerian people, a perspective for prosperity by enabling (small) business to grow and thrive. Because if the people have an enabled environment with which to thrive, then they'll be able to create wealth for themselves.
Businesses have the right to succeed, and the government, the duty, or the obligation to give them an environment in which they succeed.
Most people look at the obligations of external governments to African governments. But I did a lot of researching into the obligations of African governments to African people. And when you look at the obligation of African governments to the people, one of the obligations is to create an environment with which the people and the businesses can thrive. I consider it an obligation from the government to create an enabling environment for people such that their businesses can thrive."
The importance of staying the course
As for the message she has for departing Chairholders Dr Gustavo García-López and Dr Seye Abimbola and newly installed Chairholder Dr Khayaat Fakier she says: "I would like to emphasize the importance of staying the course. The very thing that got you selected is the very thing that you're bringing to the table right now as you go on in your journey. It's a beautiful thing to come into yourself and to be yourself as much you can. Exude that and people pick up on that energy and on that story and what you truly are. The Chair validates why you were selected, validates the research and the trajectory. Deepen your research, apply it impact-fully and be a bright light and an ambassador of the values of the Prince Claus Chair and the legacy of Prince Claus."
It's imperative to tell you story with authenticity.