Chairholder 2008-2010: Irene Agyepong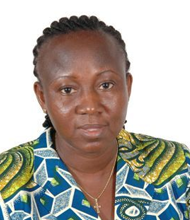 On the recommendation of the Curatorium of the Prince Claus Chair in Development and Equity, the Board of Utrecht University has appointed Professor Irene Agyepong as holder of the Prince Claus Chair. She will hold the chair for two years until the end of August 2010. Professor Agyepong will conduct research into health care in Africa.
Irene Agyepong, summary Curriculum Vitae
Born in Ghana, Irene Akua Agyepong obtained her medical degree (MBChB) from the University of Ghana Medical School in 1986, a Masters in Community Health from the Liverpool School of Tropical Medicine, University of Liverpool in 1991 and a doctorate in public health from the Univeristy of North Carolina School of Public health (Public Health Leadership program – Department of Health Policy and Administration.

She is currently regional Director of Health Services, Ghana Health Service in the Greater Accra Region and also teaches part time in the department of Health Policy Planning and Management of the School of Public Health of the University of Ghana, Legon. She is a foundation member of the Ghana College of Physicians and surgeons.

She has been a member of the Program Committee of Netherlands African Capacity building and Clinical trials Against Poverty related diseases (NACCAP) since November 2004. She is also a member of the Scientific and Technical Advisory Committee (STAC) of the Alliance for Health Policy and Systems Research, WHO Geneva from January 2006 to the present and of the Steering Committee of the Partnership for Social Sciences in Malaria Control since 2003.
Inaugural address of Professor Irene Agyepong
Professor Irene Agyepong has given her inaugural address on 28 May, 2009.

Download the inaugural address (pdf file, 1,45 Mb)
Agyepong believes it is important to invest in research into public health and in the development of health policy at the same time. "Whenever a critical political decision has to be made, there is no time to first set up a research programme and then wait for the results. The great advantage of a good research centre in Africa is that it supports the local health system, studies trends and provides answers to tomorrow's political questions", says Agyepong. "Strengthening of the health care systems in Africa must be an integral part of the current focus on poverty-related illnesses, such as AIDS, malaria en tuberculosis."

The Ghanaian Irene Agyepong (1960) is a public health expert. She is currently Regional Director of the Ghana Health Service. She is also a member of the NWO/NACCAP Programme Committee, which combines scientific research with investment in Africa to support the fight against diseases such as AIDS, malaria and tuberculosis.