Inaugural address Gaspar Rivera-Salgado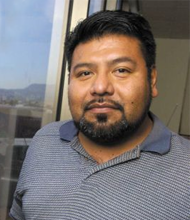 Inaugural address Professor Gaspar Rivera-Salgado, 2004/2005 holder of the Prince Claus Chair on the rights of indigenous peoples in the United States
March 2005

On Tuesday 12 April, Professor Gaspar Rivera-Salgado, the holder of the Prince Claus Chair in Development and Equity for 2004-2005, will be giving his inaugural lecture: "Equal in dignity and rights: the struggle of the indigenous peoples of the Americas." Rivera-Salgado is renowned for his academic contributions in the field of Indigenous Rights in Latin America and the United States.

Professor Rivera-Salgado (born 1965 in Tecomaxtlahuaca, Oaxaca, Mexico) holds a doctorate in Sociology and currently works as an independent consultant in the non-profit sector. A Mixteco Native American himself, he is the author of many publications about the rights of indigenous peoples. Professor Rivera-Salgado is the first Native American to be appointed Professor in the Netherlands. He has previously held positions at several universities in the United States (including Columbia University, the University of California, the University of Santa Cruz and the University of San Diego). Professor Rivera-Salgado will be based in the Netherlands from April until July at the Human Rights Study and Information Centre (SIM) of Utrecht University's Faculty of Law.

Prince Claus Chair
The Prince Claus Chair is a rotating chair in the field of development cooperation, held by a different academic every year. Young academics of excellence from Africa, Asia, Latin America, the Caribbean and the Pacific are eligible for appointment to the Chair. The Chair was established in 2003 by Utrecht University and the Institute of Social Studies (ISS) and alternates annually between the two institutions. The Curatorium of the Prince Claus Chair, responsible for making the preparations for the nomination, is chaired by Princess Máxima of the Netherlands.

Inaugural lecture Professor Gaspar Rivera-Salgado
Professor River-Salgado will be giving his lecture on Tuesday 12 April 2005 at 4.00pm in the University Hall auditorium, Academiegebouw, Domplein 29, Utrecht.

Further information
For more information about Professor Rivera-Salgado's inaugural lecture, please contact Soleanie Martis, University of Utrecht Press Office, (tel.: +31 (0)30 253 2411, e-mail: s.martis@csc.uu.nl.

For more information about the Prince Claus Chair, please contact the Curatorium secretary, Joop Kessels, (tel.: +31 (0)30 253 4477, e-mail:j.kessels@usp.uu.nl).