Inaugural address Alcinda Honwana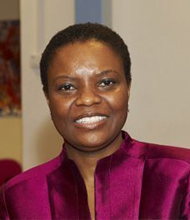 In 2007, Professor Alcinda Honwana, Director of the International Development Centre of the Open University, UK was appointed to the Prince Claus Chair by the ISS. Her Inaugural Address was entitled: "Culture and Politics: War, Reconciliation and Citizenship in Mozambique" 
The full text of her address can be downloaded here.
Professor Honwana was born in Mozambique and is an authority on child soldiers in Africa and on the predicament of young Africans in the context of ongoing globalisation processes in post-colonial Africa.
She is currently Director of the International Development Centre of the Open University in England, a post she has held since December 2005. She has worked for the Social Science Research Council in New York as director of the Children and Armed Conflict Programme and the Africa Program. She was also Programme Officer in the Office of the Special Representative of the Secretary-General for Children and Armed Conflict in New York. From 2001-2005, Professor Honwana was Coordinator of the International Research Network on Children and Armed Conflict.
Recent publications by Professor Honwana include a book on Child Soldiers in Africa, 2006, University of Pennsylvania Press; a co-edited volume entitled Makers & Breakers: Children and Youth in Postcolonial Africa, 2005, James Currey Publishers; and a book on Mozambique entitled Living Spirits, Modern Traditions: Spirit Possession and Post-War Healing in Southern Mozambique, 2003 Ela Por Ela (Lisbon) 2002 Promedia (Maputo).