Inaugural address Atul Kumar
Princess Máxima to welcome new climate professor as holder of the Prince Claus Chair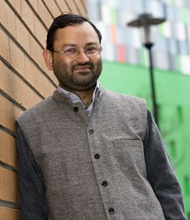 Princess Máxima will attend the inaugural lecture of climate researcher Professor Atul Kumar in the University Hall (Academiegebouw) of Utrecht University on Wednesday 23 March. The University has appointed Kumar as holder of the Prince Claus Chair in Development and Equity. During his two-year appointment, Professor Kumar will make a valuable contribution to energy and climate research, which is a major research field at Utrecht University.

Kumar will be working closely with Professor Ernst Worrell, Professor of Energy, Resources and Technological Change in the Faculty of Geosciences. They will be conducting research into the possible ways of increasing energy efficiency so that energy can be supplied to the millions of people who currently have no access. Their research will also focus on the role of energy conservation in Indian small and medium-sized enterprises (SMEs). India's SMEs are driving its economic development with their enormous potential to become economically and environmentally more sustainable through energy conservation. The title of Kumar's inaugural lecture will be 'Growth, Sustainable Development and Climate Change: Friends or Foes'.

Less CO2 through renewable energy
Born in 1977, Atul Kumar is a Fellow in Modelling & Economic Analysis at The Energy and Resources Institute (TERI) in New Delhi, India, where he has been researching the possibility of using renewable energy to reduce global CO2 emissions. The young scientist has spent eleven years conducting research into climate change, energy policy, energy-system technology and combating climate change through a sustainable lifestyle.

Contributing to a sustainable society
Sustainability is a key focus area of Utrecht University. By sharing and making knowledge available, the University aims to contribute to the sustainable development of society and the quality of life of future generations. The University focuses on an integrated approach to sustainability themes based on a tradition of cooperation between individual disciplines. In addition to environmental and technological issues, socio-economic, ethical/legal and policy questions are also playing an increasing role. 

More information
Atul Kumar's inaugural lecture will take place on Wednesday 23 March, starting at 16.15 hrs, in the University Hall (Academiegebouw) at Utrecht University.