Chairholder 2007-2008: Alcinda Honwana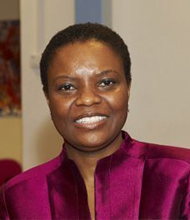 Professor Alcinda Honwana, summary curriculum vitea
Born in Mozambique, Professor Honwana did her first degree in History and Geography at the University Eduardo Mondlane Maputo; then a Maitrise in Sociology at the Universite de Paris 8 in France; and a MA and PhD in Social Anthropology at the University of London in the UK. She was senior Lecturer at the Department of Social Anthropology, University of Cape Town.
Professor Honwana was a member of the board of the Council for the Development of Social Research in Africa (CODESRIA) based in Dakar from 1998 to 2002. She was also a member of the Board of Directors of the African Studies Association in the USA in 2004/2005.
At the New School University, New York in 2001/2002 she was visiting Professor.
Professor Honwana was the coordinator of the International Research Network on Children and Armed Conflict from 2001 to 2005.
She worked for the Social Science Research Council in New York where she directed the Children and Armed Conflict Program and the Africa Programme.
Professor Honwana also worked as a Programme Officer at United Nations, in the Office of the Special Representative of the Secretary-General for Children and Armed Conflict in New York.
In 2005 Professor Honwana became Professor and Chair of International Development Centre (IDC), Open University, UK.
For more information, please visit her personal pages at the IDC.
Inaugural Address of Professor Alcinda Honwana
Professor Alcinda Honwana has given her inaugural address on April 1, 2008.

Download the inaugural address of professor Alcinda Honwana (pdf, 225 kb)
On the recommendation of the Curatorium of the Prince Claus Chair in Development and Equity, the Institute of Social Studies appointed Professor Alcinda Honwana to the Prince Claus Chair in Development and Equity for the period 2007-2008.
For 2007, the Curatorium focused on the theme of 'Conflict and Conflict Resolution' with a regional focus on Africa.
Born in Mozambique, Professor Honwana is an authority on child soldiers in Africa and on the predicament of young Africans in the context of ongoing globalisation processes in post-colonial Africa.
She has been appointed to the Prince Claus Chair because she combines an excellent academic profile with a powerful and meaningful policy engagement in the field of conflict and conflict resolution in Africa.