Chairholder 2022 – 2024: Dr Fatima Denton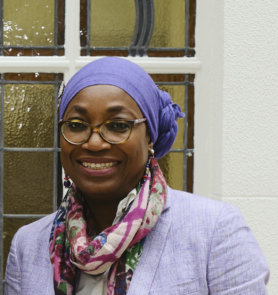 Dr Fatima Denton appointed to Prince Claus Chair
As of 1 September 2022, Dr. Fatima Denton will formally start the Prince Claus Chair in Equity and Development at Utrecht University on 'Just Transitions'.
As the world seeks to address climate change and transition to new ways of life, there is an increasing demand for what is called a 'just transition'; the need to ensure justice and equity in the sustainability transition. The transition to a more sustainable way of life presents us with both risks and opportunities to address existing social injustices. The Utrecht University Centre for Global Challenges (UGlobe) and its strategic theme Pathways to Sustainability (PtS) will be hosting the Prince Claus Chair.
Dr. Denton is currently the director of the United Nations University Institute for Natural Resources in Africa (UNU-INRA) in Accra, Ghana, which she joined in 2018. Before this, Dr. Denton worked with the United Nations Economic Commission for Africa (UNECA) in Ethiopia from 2012, where she co-ordinated the African Climate Policy Center (2012-2016) and was Director – Special Initiatives Division (2013-2018). In her work, she has straddled research and policy. Recently she was a co-ordinating Lead Author for the Intergovernmental Panel on Climate Change (IPCC) special report on climate change and land. She holds a PhD in political science from Birmingham University.
This section will be updated.
About Dr Denton's research
As holder of the Prince Claus Chair, Fatima Denton's goal is to democratize the debate around Just Transitions, ensuring voice and participation of those communities most affected by transition processes, in Africa in particular.
Dr. Denton informally kicked off her appointment with a keynote speech during the LERU Summer School on July 6th, with the theme 'The University of the Future: Rethinking the role of universities worldwide in the face of the challenges of the 21st century'.