Chairholder 2015-2017: Saradindu Bhaduri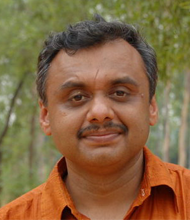 Dr. Bhaduri will visit The Hague for a first period this fall to further plan his research agenda and prepare his inaugural speech, which will be held in the spring of 2016.
Dr. Bhaduri is currently based at the Centre for Studies in Science Policy, Jawaharlal Nehru University, New Delhi, India. During his term as chairholder, Dr Bhaduri will reside for two periods of about three months at the ISS in The Hague. He will do field research in India and in Africa, and he will contribute to teaching on frugal innovation. Dr. Bhaduri will cooperate extensively with researchers from the Centre for Frugal Innovation in Africa, one of the joint multidisciplinary centres of Leiden University, Delft University of Technology and Erasmus University Rotterdam.