Chairholder 2018-2020: Veena Srinivasan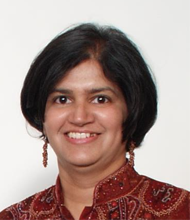 About Veena Srinivasan
Dr Veena Srinivasan obtained her doctorate from Stanford University in 2008 with research into the influence of urbanisation on water shortages in developing countries. She studied in Boston and Mumbai, and conducted research at the Centre for Interdisciplinary Studies in Environment and Development in Bengaluru (India). After obtaining her PhD, she continued working at Stanford as a post-doctoral researcher, where she founded the Freshwater Initiative. She is currently a fellow of the Ashoka Trust for Research in Ecology and the Environment (ATREE), an academic think tank in Bengaluru.
VEENA SRINIVASAN
Sadashivnagar, Bangalore, India
Email: veena.srinivasan@gmail.com, veena.srinivasan@atree.org
Twitter: @veenas_water
URL: http://www.atree.org/veenasrinivasan
EDUCATION
Stanford University PhD, Emmet Interdisciplinary Program in Environment and Resources, 2008
Boston University Master of Arts, Energy and Environmental Analyses, 1997
Indian Institute of Technology, Mumbai, Bachelor of Technology, Engineering Physics, 1995
RESEARCH EXPERIENCE
Fellow, Ashoka Trust for Research in Ecology and the Environment (ATREE)
Programme Leader – Land, Water, Livelihoods Programme
Co-Principal Investigator Sep. '12 – Present Adapting to climate change in urbanizing watersheds in India (ACCUWa)
Principal Investigator Apr. '14 – Present 2035 Vision for Sustainable Water and Wastewater Management in Bangalore
Principal Investigator May '16 – Present Upscaling Catchment Processes for Sustainable Water Management in Peninsular India
Principal Investigator Apr '16 – Present Development of Citizen Dashboards for Lake Water Quality in Bangalore
Co-Principal-Investigator Jan '15 – Present
US-India planning visit: Linking remote sensing, citizen science and robotics to address critical environmental problems in data sparse regions.
Senior Research Associate, Pacific Institute Jul '11 – Present
Co-authored position paper on Global Water Governance for G20 Summit in 2012
Co-authored report on "mWASH" Mobile Phone Applications in water and sanitation
Lead author in a concept note on Multiple-Use Water Services for Rockefeller Foundation
Co-authored report on climate change resilience and urbanization in Indore, India
Post-doctoral scholar, Stanford University Sep '08 – Jun '11
Developed a framework for a proposed Global Freshwater Initiative at Stanford
Conducted a meta-analysis to understand the causes of water crises across the world
Research Associate, Pacific Institute Sep. '01 – Sep '02
Analyzed potential for Demand Side Management in the commercial/industrial sector of California.
Prepared comparative case studies of successful urban water management worldwide.
Veena Srinivasan appointed to Prince Claus Chair
As of 1 September 2018, Dr Veena Srinivasan will hold the Prince Claus Chair at Utrecht University for her research into sustainable and inclusive food production in Asian delta regions. With this position, Srinivasan is keen to not only contribute to delta and food research being conducted in Utrecht, but also to play a role in further intensifying collaboration between Dutch and Indian institutions.
Deltas in Asia are fertile areas, but are therefore also densely populated and bursting with economic activity. A great deal of food is produced in deltas, both for the domestic population and for export. However, due to their location on low-lying ground, these delta regions are vulnerable to river and coastal flooding. Construction to cater for the flourishing economy and growing population has caused additional subsidence, and the effects of this are already visible in food production.
A sustainable and inclusive transition
With her research at Utrecht University, Srinivasan wants to contribute to a transition in the Asian delta areas to sustainable land use, with room for both food production and urbanisation. On the one hand, she is researching how land use can better anticipate changing circumstances such as drought, flooding and urbanisation. On the other, she is keen to work towards changes to water management in delta regions, so that the transition is both sustainable and inclusive. Srinivasan aims to contribute to more involvement from the local population in both the decision-making process and the creation of a more sustainable food production and urbanisation.
Pathways to Sustainability
With her research, Srinivasan will participate in two transdisciplinary research programmes: 'Water, Climate and Future Deltas' and 'Future Food'. Both programmes are part of 'Pathways to Sustainability', one of Utrecht University's four strategic research themes. Srinivasan is being appointed to the International Development Studies research centre in the Department of Human Geography and Planning (Faculty of Geosciences).