Chairholder 2016-2018: Fatima Suleman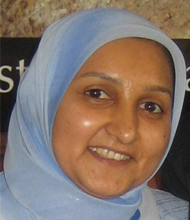 Fatima Suleman (B.Pharm, M.Pharm, PhD) is an Associate Professor in the Discipline of Pharmaceutical Sciences, School of Health Sciences, University of KwaZulu-Natal, South Africa.
She is also an Adjunct Assistant Professor at the College of Pharmacy and Health Sciences in the Department of Clinical Sciences (2009-2015) at Drake University, and co-collaborator for the AIDS Online International course with Dr Sharron Jenkins at Purdue University. She was a national executive member of the Pharmaceutical Society of South Africa (2008 – June 2012) and a Fulbright Alumnus (Fulbright Scholar 2002-2004).
Her previous appointments include being a member of the South African Primary Health Care Essential Drugs List Review Committee (1997 – 1998) and of the KZN Provincial Essential Drug Programme Co-ordinating Committee (1997 – 1998). In 2009 she was appointed by the National Minster of Health to the Medical Products Technical Task Team from as well as to the Procurement Task Team.
She was awarded the Distinguished Teachers' Award in 2010 by the University of KwaZulu-Natal for her role in curriculum development and innovative teaching practices. Her research has been published in several journals and has been presented at a number of national and international conferences. She has received numerous grants from the National Research Foundation, the University of KwaZulu-Natal, the Medical Research Council and the National Institute of Health. She is a Y-rated researcher by the South African National Research Foundation (NRF), and is coordinating two online Masters programmes in the School of Health Sciences. She has been appointed by the Minister of Health to serve on the National Pricing Committee (2010-current), and is currently the Chair of the Pricing Committee and has been appointed on the World Health Organisation Pricing Policy Guideline Committee (2011-2012). She also has collaborations with the Oslo Cochrane Centre, in the field of pharmaceutical policy.