Inaugural address Dr. Fatima Suleman
Professor Fatima Suleman has formally accept her appointment to the Prince Claus Chair in Development and Equity 2016/2018. She has delivered her inaugural address, entitled: "Affordability and equitable access to (bio)therapeutics for public health" on the 16th of May 2017 in the University Hall (Academiegebouw).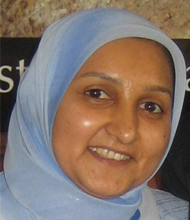 Dr. Fatima Suleman, associate professor of Pharmaceutical Sciences at the University of KwaZulu-Natal in South Africa, has been appointed to the Prince Claus Chair of Development and Equity as of 1 September 2016. During the next two years, she will be conducting research in affordable (bio)therapeutics in collaboration with scholars at Utrecht University, other scholars in the Netherlands and the World Health Organisation (WHO).