Inaugural address Rema Hammami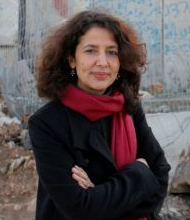 Inaugural address Rema Hammami, 2005/2006 holder of the Prince Claus Chair
April 2006

Professor Rema Hammami, Holder of the Prince Claus Chair in Development and Equity 2005/6, will deliver her Inaugural address at the Institute of Social Studies. The Prince Claus Chair in Development and Equity (PCC), established by Utrecht University and ISS, rotates from year to year between Utrecht University and the ISS. In 2005/6 it is located at the ISS.
The Curatorium of the PCC, nominated professor Rema Hammami for the position as Chair Holder in view of her academic contributions as an intellectual protagonist to peace and co-existence in Palestine. She is Assistant Professor of Anthropology at the Institute of Woman`s Studies, Birzeit University, Palestine.

For more information about the Prince Claus Chair, please contact the Curatorium secretary, Joop Kessels, (tel.: +31 (0)30 253 4477, e-mail:j.m.m.kessels@uu.nl).